Outdoor living spaces can add serious value to your home, and I do not just mean in terms of investment. Having the right outdoor space means having the ability to entertain guests, to relax, and to spend quality time outside of your home. Adding a louvered pergola opens up endless possibilities for you to enjoy the outdoors. While there are a multitude of reasons to install a louvered pergola, here are four of the top reasons.
1. Adding a Louvered Pergola Extends the Amount of Time You Can Spend Outdoors.
One of the biggest advantages to having an Apollo motorized louvered pergola is the versatility in any weather. Even if you install a standard patio cover or pergola you may find that you rarely use your new outdoor area very often. This might be due to frigid and wet weather, or overly hot and sunny days. These situations might even make you consider whether your investment was worth it.
An Apollo Opening Roof system is the perfect solution. Since our louvered pergolas are adjustable, you can open and close the louvers to adjust the amount of sun, shade, and airflow around your outdoor spaces. So even if the weather turns, you will be prepared.
We build our system to accommodate both everyday living and expected social gatherings. We want you to be able to enjoy your outdoors spaces 365 days a year, regardless of the weather. Which is why we build our system with the functionality to supply comfort all year long.
2. Louvered Roofs Provide Protection from the Elements.
Nothing ruins outdoor plans like 110° days or the pouring rain. An Apollo roof will help you reclaim your outdoor spaces and create a comfortable and relaxing space that you will both love and use day after day.
Apollo's motorized pergolas are made up of horizontal slats ("called louvers") which can be repositioned. By altering the louvers' position, you can adjust the amount of sun, shade, and airflow around your outdoor space. Are you planning on BBQing under your patio cover? Open the louvers slightly to enjoy natural ventilation. Do you want added protection from the elements for your outdoor furniture? When you close the louvers, they overlap to create a virtually waterproof seal, extending the life of your outdoor belongings. Apollo louvered roofs help keep your furniture from getting sun-bleached and ruined. They also reduce the potential for rain damage against electronics. Read more about how Apollo motorized louvered pergolas protect against the rain.
3. Apollo Puts the "Smart" in Louvers Made Smart
The design and functionality of our products truly make Apollo systems the ultimate louvered roof system available.
Apollo's Louvered Pergola Design
To begin, we make our frames from the highest-quality extruded aluminum. This material is durable enough to withstand even the harshest environments. It also has the added benefit of requiring minimal maintenance. To finish it off, we coat our systems in a high-quality powder coating finish. This supplies a beautiful array of color options, and provides excellent environmental protection. So, you do not have to worry about your system getting scratched or ruined by the sun.
Functionality of Our Louvered Roofs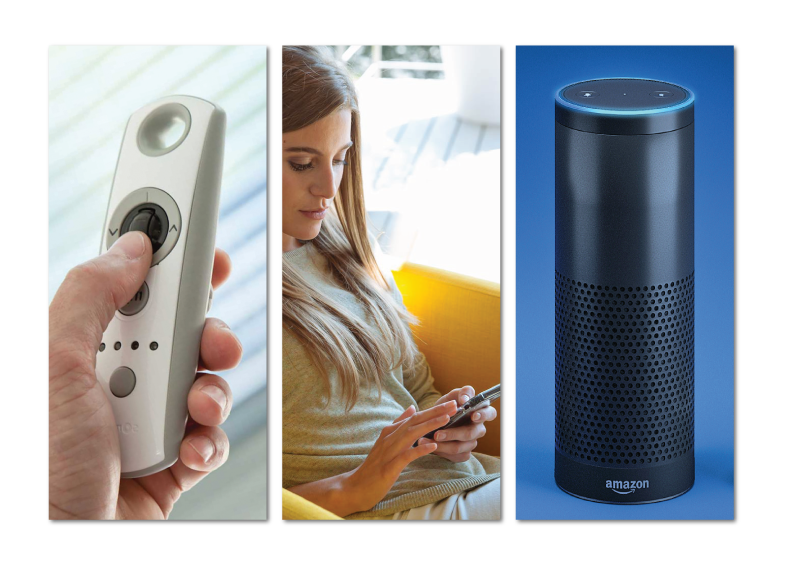 The functionality of Apollo systems is their real selling point. Our systems use state-of-the-art technology to rotate the louvers. This gives you the ability to open and close your system at will. However, we did not stop there. Not only can you open and close your system by a remote or wall switch, but we also offer the ability to connect your system to your smartphone and voice enabled devices such as Alexa. So, you can easily control your system with the touch of a button, or by simply saying something like, "Alexa, open Apollo."
If you want your louvered roof to open and close automatically, we also have an option for that. With the addition of weather sensors your systems will be smart enough to open and close without you having to lift a finger! When it starts to rain the system will sense it and adjust itself to keep your outdoor spaces clean and dry.
4. A Louvered Pergola Provides Endless Customization Options
Do not settle for out of the box standard patio kits. Invest in a system built to fit your home and style. Each Apollo system is custom crafted and site specific. From color to size and shape, you can design your ideal patio cover and build your perfect backyard oasis.
System Options for Your Louvered Pergola
When it comes to color, our louvers and frames come in standard colors as well as an endless array of finishes. Our standard colors are white, sand, bronze, pewter, and black (plus slate for frames). When it comes to size and shape the possibilities open. Whether you are looking for a freestanding or wall attached system, our designers can help build a system to fit your needs. Contact our team and we will connect you with your nearest Apollo dealer.
Integration Options for Your Louvered Pergola
You can enhance your comfort even further by integrating accessories into your Apollo roof. We understand that sitting in the heat can be a miserable experience. It is the reason we created a system with louvers that open and close. By opening your louvers, you can add natural airflow. Plus, you can integrating fans to take this a step further. Likewise, you can integrate heaters to counteract the chill to make your patio more comfortable during the winter. We design our systems for the integration of these accessories and more. Learn more about our products here.
Outside gatherings will never be the same. Finally, you will be able to enjoy gathering in both style and comfort. Visit our gallery to get inspired and check out our past work. Whether you are building a poolside lounge area, an outdoor kitchen, or a simple seating area, adding an Apollo louvered pergola will be a worthwhile investment.